Cell and Gene Therapy in 2040. Seizing today's moment to propel the industry forward – PA Consulting Report
Shaping the future of cell & gene therapy
Following previous breakthroughs in small molecules and biologics treatments, cell and gene therapy (C&GT) represents the next major wave of therapeutics innovation. This opens the door to treating a number of currently untreatable and/or underserved health conditions, such as cancers and genetic conditions.
In recent years, there has been a rapid increase in C&GTs beyond their initial oncological applications. In particular, pharma and biotech portfolios have seen a growing level of pre-clinical and clinical activity in therapeutic areas such as metabolic diseases, neurology and infectious diseases, among several others. This is spurred by an increase in investment and M&A activity in the sector. In 2018 and 2019, M&A deals totalled USD $49 billion, up 980 percent compared to 2014-2015.1 There are more than 60 C&GT products approved worldwide and almost 2,000 open or planned clinical trials. Upwards of 200 Investigational New Drug applications are predicted to be submitted every year in the US from this point onwards, and between 10 and 20 new C&GT products could be approved each year from 2025 in the same region. This is truly an exciting time for C&GT as hype begins to turn into reality.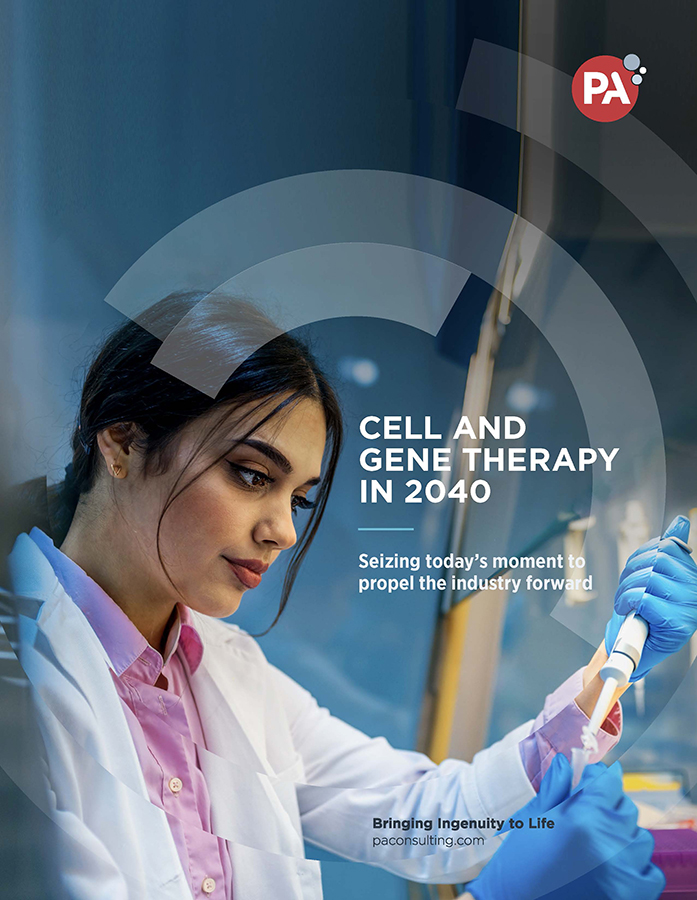 The profile of C&GTs has been further heightened by their leading role in the fight against COVID-19. Two mRNA-based vaccines from Pfizer/BioNTech and Moderna are showing outstanding efficacy levels and being administered in several countries worldwide, showcasing a compelling success story for this technology. There are almost 100 products in the pipeline investigating the use of C&GT for COVID-19 vaccination and treatment, with 19 in Phase 2 or 3 trials. For example, some studies are investigating how Mesenchymal Stem Cells (MSCs) could be used for the treatment of COVID-19-related acute respiratory distress syndrome (ARDS), and T-cells for protection from and treatment of COVID-19 infections, as their potential is explored to assist with this and future pandemics.
C&GT is one of the fastest growing markets in the life sciences sector, and is projected to reach $14 billion by 2025.2 This will be driven by technological advancements, such as the increasing availability of low-cost gene editing tools and targeted delivery systems, as well as investment to enable automated, faster and more efficient manufacturing processes. The next decades will likely see C&GTs become standard across multiple disease areas, starting with oncology but expanding into others. The availability of treatments is also likely to improve as the infrastructure is established to provide treatments to patients beyond centers of excellence.
There are almost 100 products in the pipeline investigating the use of C&GT for COVID-19 vaccination and treatment, with 19 in Phase 2 or 3 trials.
Definitions
C&GT is used to identify therapies that use genetic material and/or cells to treat a specific disease. While cell therapies and gene therapies are different, there is a substantial overlap between the two:
Cell therapy: treatment involving the introduction of healthy viable cells into patients. For example, stem cell therapy.
Gene-modified cell therapy: treatment involving the introduction of cells that have been genetically modified into patients. These therapies can also be referred to as 'ex vivo' gene therapies or simply 'cell therapies.' For example, CAR-T (chimeric antigen receptor T-cell) therapy, whereby immune cells are reprogrammed to identify and fight cancer cells.
Gene therapy: treatment administered directly to the body to edit cells' genetic material. The targeted cells remain in the patient's body. Typically a viral vector is used. These therapies are also referred to as 'in vivo' gene therapies.
Download the full report here